Top Hidden Gems across Kents Beaches
27th May 2021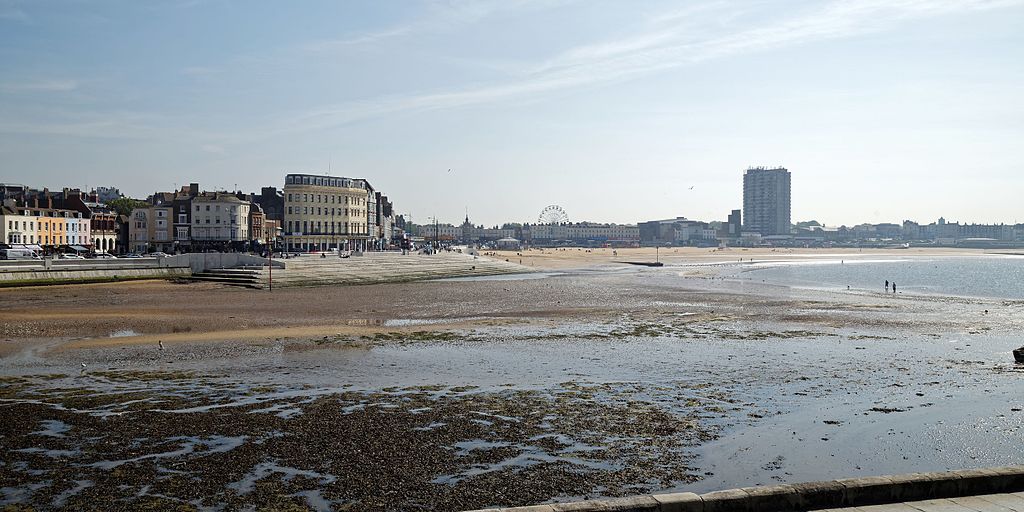 This article is part of a series around English Tourism Week, an annual celebration of English tourism. This week-long event celebrates the tourism industry in England. Centaur provide coach hire all over the UK but our bases in South-East England means we have extensive knowledge of this area. Here are some of the best things we think you can do and see. With restrictions easing and the weather improving it's a great time to start planning some summer days out.
We've compiled a list of our favourite lesser known beaches in Kent. So what do we mean by hidden gem? A hidden gem doesn't necessarily mean that nobody knows about it. You may well know about the beach itself but not about the glorious restaurant set just back from the seafront. Or the incredible museum hidden inside one of the non-descript buildings you walked past to get to the beach. This list is by no means exhaustive and you may well have some ideas of your own. It's up to you whether you share them with the world or keep them to yourself.
Kingsgate Bay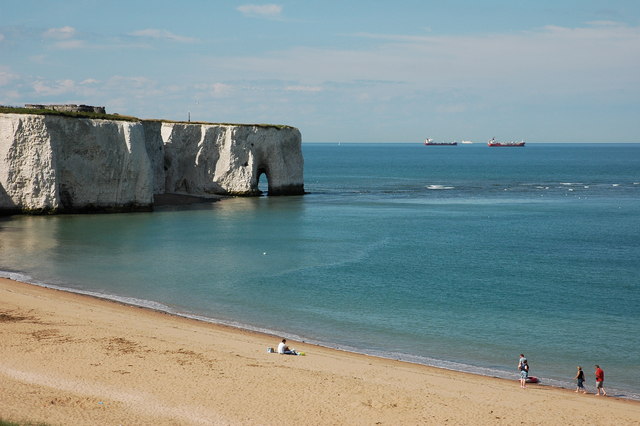 [Philip Halling / Kingsgate Bay, near Broadstairs]
Joss Bay and Botany Bay are two beaches that most people in Kent will probably be familiar with. The beaches themselves are two of the most popular in Kent and it's easy to understand why. 
What people might not know is that about halfway between Joss Bay and Botany Bay is Kingsgate Bay. Less popular than the other two, Kingsgate offers the same beautiful sandy beach and white chalk cliffs, but it also has some extras that set it apart. 
Allegedly the best collection of sea caves in the country, Kingsgate has that little something extra that qualifies it as a 'hidden gem' in our eyes. At one end of the bay, it also features Kents very own Durdle Door alternative, the Kingsgate Bay Sea Arch. At the other end of the bay, perched on top of the cliff, is Kingsgate Castle. Not the kind of castle you might be thinking of but this elaborate private residence is a sight to behold. You also have Neptunes Tower, the remains of a coastal fort and a great place to explore.
The drawback to Kingsgate Bay is that there is limited parking and no lifeguard facilities. At high tide, the beach can become cut off at both ends so make sure to check before you travel!
Stone Bay
Photo © Mark Percy (cc-by-sa/2.0)
Kent has many famous literary and film connections and this next location is very much one of them. Most people might associate Broadstairs with Dickens Bleak House, perched just above Viking Bay. Sadly now in private hands, Bleak house was recently home to a museum about Dickens, including his writing room with a fantastic view across the seascape, as well as a museum dedicated to the rich history of smuggling in Kent.
Stone Bay is a short walk up from Bleak house and accessible by steps. There is a vehicle ramp down to the beach which can also be used for disabled access. It's the steps here that are the connection. Stone Bays steps are the steps from John Buchan's novel The 39 Steps, famously adapted for film by the inimitable Alfred Hitchcock. Not only does this beach have a great literary connection, its location means that most people go to nearby Viking bay, making Stone Bay a hidden gem by comparison. 
There are toilet facilities, beach huts, and a cafe here but be warned, at high tide the beach virtually disappears. So as always be sure to check before you travel!
Kingsdown Beach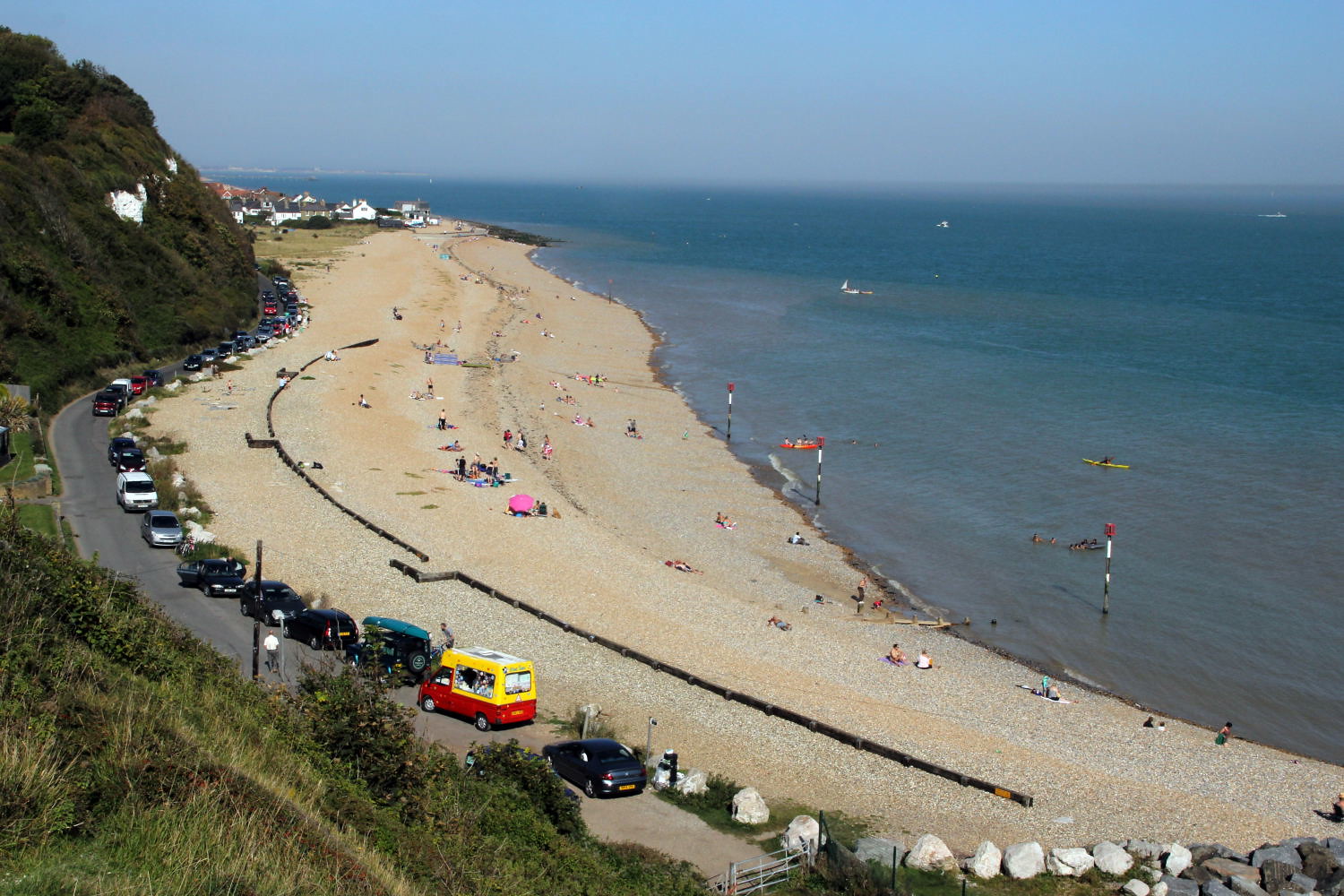 Photo © Jeff Owen (cc-by-sa/2.0)
And now for something completely different. Our last two beaches are traditional sandy bays, Kingsdown is a pebble beach. We think the pebble beach gets a bit of a bad rap and we want to change that. Sure sandy beaches are great for building sandcastles and better for sunbathing, but pebble beaches have their own charm and serve a different purpose. Kingsdown beach is particularly good for walks. If you want to go for a seaside trek you'd do well to find a better place to start, and indeed finish, than Kingsdown. The beach stretches for miles but a good route takes in Walmer Castle, Deal Castle, and Deal pier. Start at Kingsdown, take in those locations, stop at the pier for some fish and chips, and head back again. A great family day out!
Bonus
The Tankerton Slopes aren't exactly a hidden gem. The whole seafront at Whitstable is a gem and known to many people. We still thoroughly recommend it as a destination even though it doesn't quite fit in this list.
The Tankerton Slopes do hide a secret though, something that really is a hidden gem if you didn't know it was there. At low tide, a naturally formed walkway appears leading from the beach into the sea. Known as 'The Street', this phenomenon makes it possible to walk out into the sea and it's an incredible experience. If you've never been there at low tide you might never have known. Make sure to check the tides before you travel and enjoy this amazing natural gem.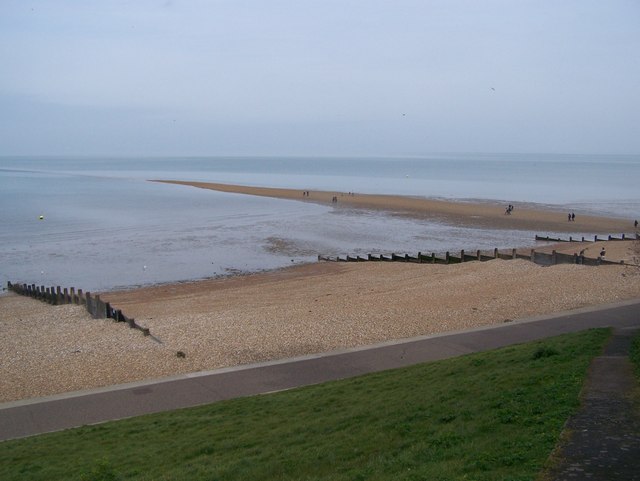 Photo © David Anstiss (cc-by-sa/2.0)