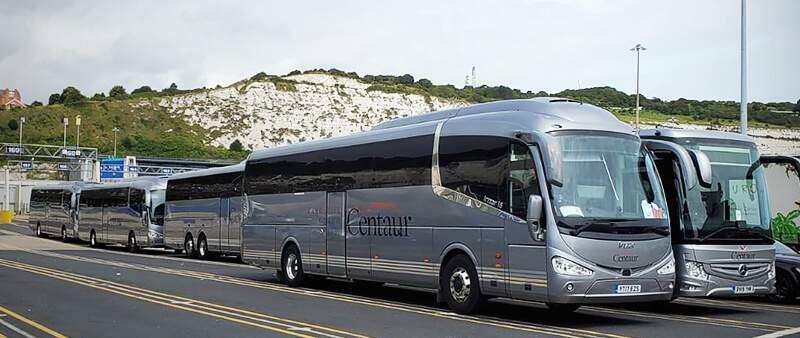 Centaur has been transporting travellers all over Europe for almost half a century.
Travelling through Europe is genuinely a fantastic way to experience the unique culture and diversity it has to offer. With such an excellent offering on our doorstep, it is no wonder we have been transporting passengers on the continent for so long. Travelling by coach allows you to experience magnificent views from panoramic windows - whether it be rural countryside, city skylines or mountainous regions, you can see it all.
Our experience has taken us all over Europe, including providing transport for 2000 individuals to Amsterdam for a weeks conference, school ski trips to the Alps, month-long European hospitality tours, and sports tours and fixtures.
Our operations management team is hugely experienced in delivering simple and complex transport solutions for individuals or businesses wanting to travel to Europe.

A Vehicle for Every Occasion
Whether you need ground transport for 6 or 6000 people, we have a perfect solution for you. Our diverse fleet includes vehicles with facilities such as Wi-Fi, charging points, reclining seats, desks, lounges, kitchens and wheelchair lifts.
UK inbound tourism
With one of the largest coach hire fleets in the UK, we are the go-to operator for UK inbound passengers. Whether it's a summer school, city or sightseeing tours, corporate conferences, events or sports fixtures, we have the vehicles and know-how to ensure your transport is successful.
Expert customer support
With experienced professional Transport Managers within our team, we can ensure you have a smooth and relaxing journey. Our drivers are trained above industry standards to ensure you are provided with first-class service. Our committed team of enthusiastic in-house coach hire specialists will ensure that your experience is hassle-free, and will be able to advise you on the best coach hire option for your group, no matter the scale.
Our coach hire services are backed up by 24/7 operational support, ensuring that your trip is a success at any time of the day.
Contact Us
If you plan to travel to Europe or are visiting the UK, speak to our team today on 0208 300 3001 or complete our quotation form, and we'll get right back to you.