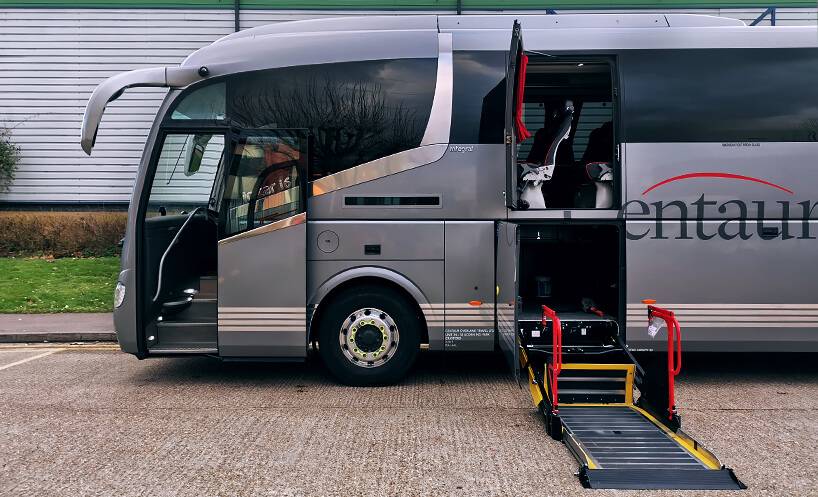 What is PSVAR?
In late 2000, the Government introduced the Public Service Vehicle Accessibility Regulations for all vehicles with over 22 passengers and operated on a timetabled service to ensure that all vehicles are safe and accessible to everyone who needs to use them. 
What does it mean for our coaches?
We always try to go the extra mile for our passengers but to ensure that we follow the PSVAR regulations, all of our coaches within the criteria have allocated wheelchair spaces. You can find removable seats on our coaches and a lift to ensure that wheelchair passengers can get on and off the coach hassle-free. 
We also ensure that all our coaches are fitted with grab handrails throughout to help passengers get on and off-board with ease.
In addition, our drivers are trained in disability awareness to ensure that they can spot and offer the appropriate help when needed, without being asked, to you peace of mind when travelling. 
How are we meeting the criteria?
Although we offer plenty of timetabled, local services, especially for commuters, we also run a few specific services around Kent and London that meet PSVAR.
We've been providing London Universities with daily bus and coach shuttles for the last 30 years, and due to a change in PSVAR and a renewed commitment from the institutions, we needed to upgrade some vehicles. To ensure that we were complying with the Government regulations and to keep all passengers safe, we invested in five new vehicles, including two electric double-decker buses and two hybrid coaches at a total of just under £2million. As well as ensuring that all the vehicles supplied on this contract met PSVAR regulations, we ensure that any extra vehicles needed also meet these requirements. 
Centaur Coach Hire is also a supplier of rail replacement transport for part of the UK's rail network. On weekends, we supply anywhere up to 25 vehicles per day, all of which meet the PSVAR requirements. To ensure this, we have seats removed for wheelchair accessibility, and that the scheduled driver is fully trained in disability awareness and on how to use the wheelchair lift if required. 
Finally, we operate five routes between a London based private school and home towns using different sized vehicles. We are currently working with the school to ensure that their coaches and buses meet these requirements and fulfil the pupils' needs. Our drivers are also CRB checked and undergo safeguarding training to guarantee the safest of journeys.
Why Choose Centaur Coach Hire?
With over 45 years of experience in the industry, we know what it means to go that extra mile to ensure our passengers' comfort, safety, and overall peace of mind. Making sure our coaches comply with PSVAR is just a tiny part of what we can offer. 
If you're interested to learn more about Centaur Coach Hire, you can get in touch with us via email or by speaking to one of our friendly experts by clicking here.