Coronavirus Customer Update
15th April 2020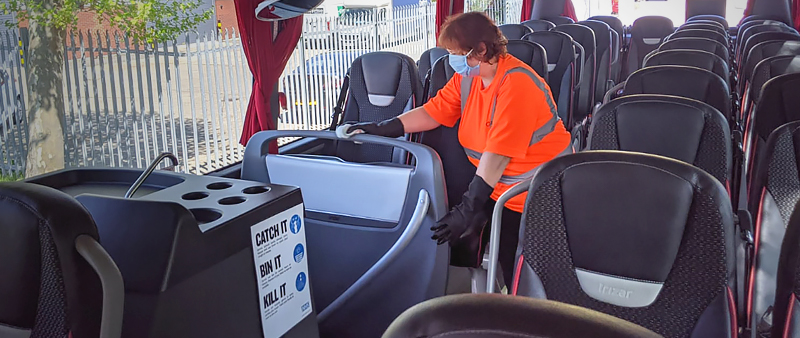 At Centaur we are doing everything possible to safeguard the wellbeing of our customers and staff during the coronavirus crisis. Below is a summary of the current changes and measures that we have taken within our business to protect all our stakeholders.
Contacting Us
We are still open for business but following UK government advice much of our team is now working from home, with only key operational staff present at our sites. The best way to contact our team during this period is to use the following e-mail addresses. However, if you have an urgent enquiry, particularly regarding a crisis transport need or quotation, you can still call us on 0208 300 3001 (05:30 – 18:30).
Sales, bookings and other general enquirers – [email protected]
Commute enquires – [email protected]
Account enquiries – [email protected]
Staff enquiries – [email protected]

Passenger well-being
The UK Government is currently urging against all but essential travel. If you still need to arrange transport or require a solution for crisis travel then be assured we are taking steps to protect your wellbeing while travelling onboard our vehicles.
We're sharing advice and information about how to stay healthy including installing "catch it, kill it, bin it" public health posters across our fleet and at our sites, encouraging good hand and oral hygiene techniques and ensuring governmental advice is followed throughout our organisation.

We've improved our vehicle and depot cleaning measures; ensuring additional antibacterial products are used by our staff and extra attention is paid to touch-points like vehicle grab rails.
We've issued all our drivers with additional antibacterial products to help them keep themselves and their vehicles clean and have instructed drivers to switch off air re-circulation on their vehicle to ensure that only fresh air enters the cabin.
We're conducting daily directors' coronavirus crisis meetings to keep abreast of the latest UK government advice and ensure an appropriate and comprehensive response across our organisation.
We've reduced staffing levels at all our sites with only key operational staff present.
We're allocating the largest capacity vehicles to ensure those travelling onboard can respect social distancing guidelines as much as reasonably possible.
Sales and reservations
Future bookings
We remain open for business and continue to take bookings for future travel. For quotations please complete the online form on the homepage or e-mail [email protected]. If you would like to discuss your requirements in more detail particularly in light of the current circumstances, please do not hesitate to contact a member of our team on 0208 300 3301 (05:30 – 18:30).
Crisis travel
Our expert team are currently providing essential travel and logistics services for government, businesses, charities and others during this period including.
Home to school transport
PPE delivery
Food bank delivery
Business continuity travel
Rail and air replacement
If you or your organisation has a crisis transport need please call us immediately on 0208 300 3001 or visit our dedicated web page for more info.
Current bookings
We understand that this is an uncertain time for everyone and if you are concerned about your future booking with us please contact our team via email [email protected].
Commute service
Timetable
Our team have been working hard to operate a contingency commuter service during the coronavirus crisis for key workers and others that need to make essential travel. However, due to continued restrictions on movement we regret that from 16/04/20 we will temporarily be suspending all commuter services until further notice.
We will continue to follow UK government updates closely and will inform customers as soon as we are able to resume services.
Tickets
We recognise the significant impact that the coronavirus crisis is having on our customers and with this in mind we are offering more flexibility on our ticket terms and conditions. Where customers have been unable to travel, we are offering them the ability to freeze their ticket and have the validity period extended when they return to work. To freeze your ticket please kindly post your ticket(s) and a covering letter to Centaur Commute, Unit 34-35 Acorn Ind. Park, Crayford, Kent, DA1 4AL. Please note that we are only able to freeze tickets that are returned to our office as outlined.
We would like to take this opportunity to thank all our customers for their understanding and continued support in these unprecedented circumstances. We look forward to resuming a normal service and seeing you all very soon. In the meantime, we wish you and your families well.

For further information regarding the Covid-19 outbreak and government action please visit https://www.gov.uk/coronavirus