Coach Hire In Greenwich
24th September 2021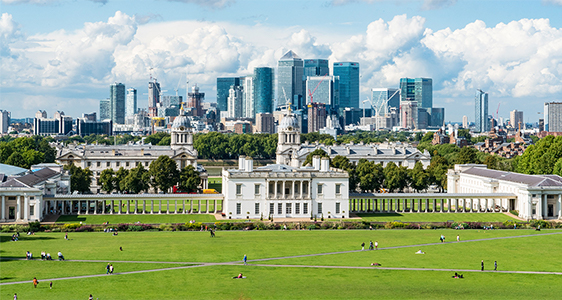 We've been providing coach hire across Kent and London since 1975 using our fleet of over 100 vehicles, so we know Greenwich like the back of our hand. Our drivers are trained to know the area and are happy to recommend stops and places to visit, so you know that you're always going to be in safe hands when travelling with us.
Things To Do In Greenwich
The Royal Borough of Greenwich is technically made up of two areas, Greenwich and Woolwich, and became a Royal borough to celebrate Queen Elizabeth II's Diamond Jubilee in 2012. Set on the south of the Thames, Greenwich offers the best of both worlds, with excellent links into central London and great open spaces and great links into Kent.
Starting with perhaps the most obvious tourist attraction, but well worth it nonetheless, the Royal Observatory, Britain's first state-funded scientific institution. Way back in 1674, King Charles II appointed a Royal Commission to look into how Britain could use astronomy, navigation and cartography to accomplish our seafaring ambitions. Steeped in history, there's plenty to do at the observatory, including seeing the meridian line, heading up to the Peter Harrison Planetarium, and even looking down the Great Equatorial Telescope, one of the largest of its kind in the world! Set on the site of an ancient castle, the observatory will give you some of the best views of the London skyline, so even if you don't fancy going in the observatory, it's worth going up just for the view.
If you wander 15 minutes towards the river, you'll find the infamous Cutty Sark. Built-in 1869, the ship's maiden voyage was bound for Shanghai, where it became part of the tea trade, exchanging it for wine, spirits, beer and other manufactured goods. Despite a devastating fire in 2007, the Cutty Sark has been restored and reopened, making this piece of history a must-see in Greenwich.
London is known for having some of the most spectacular parks in the world, and Greenwich Park has to be included in that. Overlooking the River Thames, giving you some iconic views of London and spread over 183 acres, you'll find a mix of 17th-century landscape, beautiful gardens, all combined in its rich history dating back to the Romans.
Whilst You're There
Just south of Greenwich, you'll find English Heritage Site Eltham Palace and Gardens. This once medieval palace turned Tudor royal residence, turned extravagant millionaires home is surrounded by 19 acres of award-winning gardens that wrap around an incredible Art Deco home that has incorporated the original medieval features.
What's a trip to London if you don't get to see the infamous skyline from as many viewpoints as possible, so why not take to the sky to see London from above! Hop on the Emirates Airline, over the Thames to the O2 and take in the magnificent views. A 15-minute walk from Greenwich will take you to the O2, where you will find the airline station. Whilst you're there, you can head into the O2 for a spot of shopping in the designer outlet or have a bite to eat from the multiple cuisines on offer.
Why Coach Hire?
Although Greenwich is south of the River Thames, you'll still be expected to pay full London parking charges. Many tourist spots in Greenwich do have on-site parking, but this is limited, meaning that you are only able to stay for a maximum of 4 hours - not ideal if you're planning a day out. However, when travelling to Greenwich via coach, there are multiple options for secure 24-hour coach parking, including the O2, where you can easily split the cost between the travelling party.
When travelling through London zones, you'll also be expected to pay the ULEZ charge, costing £12.50 per car. A day out in London can already be pretty expensive, so why would you want to add to that when you can comfortably cruise through Greenwich in the comfort of one of our 100 coaches to choose from, whizzing past the cars on the bus lanes? It's a simple choice really!
Why Choose Centaur Coach Hire?
With over 45 years of experience in the industry, we know what it means to go that extra mile for our passengers' by offering recommended stops wherever you may please.

If you're interested in learning more about our Greenwich Coach Hire, you can get in touch with us via email or by speaking to one of our friendly experts.