Coach Hire In Dartford
14th September 2021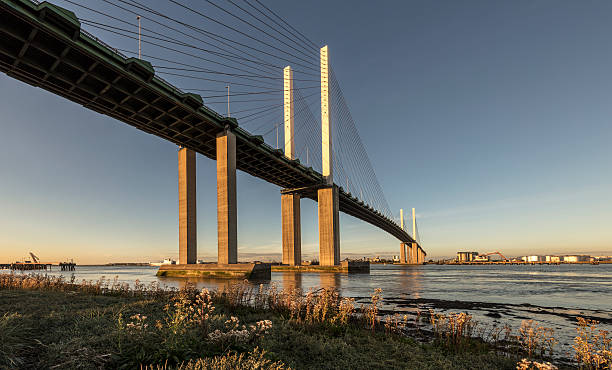 We've been providing coach hire across Kent and London since 1975 using our fleet of over 100 vehicles, so we know Dartford like the back of our hand, with our depot being located here. Our drivers are trained to know the area and are happy to recommend stops and places to visit, so you know that you're always going to be in safe hands when travelling with us.
Things To Do In Dartford
If walking, woodlands, and great views sound like a bit of you, Dartford might just become your new favourite place. Dartford is best known for its close links to Essex and principally being a commuter town for London. However, as a stand-alone town, it has some must-see stops.
Despite being only 20 miles from central London, Dartford is surrounded by beautiful open green spaces, with plenty of places to explore. Starting with the biggest one, Darenth Valley County Park was opened to the public as part of the Millennium celebrations, containing everything from environmentally managed wildflower meadows to the perfect picnic spot. Originally used as a burial ground for the Saxons, the park is also an archaeological goldmine, with 12 graves being discovered in recent years. As well as this, you'll find a children's play area, geocaching spots, waymarked trails, and cycle paths. An excellent location for exploring!
If you're looking for an educational day out, why not try The Enchanted Woodland. Run by Temple Hill Trust volunteers who provide curriculum-based activities for children. They promote self-awareness and self-confidence whilst exploring different surroundings, encouraging relaxation, vitality, and a true sense of well-being. If that doesn't take your fancy, you can feel free to explore the massive 3 acres of paths and trails that span the woodland. Despite once being part of the Joyce Green Hospital Cemetery, an establishment built to deal with majorly infectious diseases.
Close by you'll find Lullingstone Castle, one of England's oldest family estates. Set on 120 acres of beautiful gardens, Lullingstone is also home to a horticultural feast for the eyes, The World Garden. Inspired by its current heirs' remarkable history in Columbia, you'll be able to find the most incredible and rare plants from across the globe, paying homage to the Victorian and Edwardian plant hunters.
If you're not one for nature, why not head over to local artist Stephen Oliver's studio and gallery, located in the Orchard Shopping Centre in the heart of Dartford. Inspired by nature, Oliver's work showcases beautiful, breathtaking views, mainly skies and stretching perspectives, representing the 'feel' of nature.
Whilst You're There
A short 25-minute journey away, you'll find the town of Blackheath. Situated around a picturesque village green, this is a perfect place to explore, with plenty of independent cafes and restaurants, all whilst enjoying a distant, iconic London skyline.
If you're planning on treating yourself, head over to Bluewater shopping centre, the 4th largest shopping centre in the United Kingdom. Shopping, restaurants, a cinema, a trampoline park and even a children's soft play centre: you'll never run out of things to do!
Why Coach Hire?
Driving to Dartford can mean going on major motorways and dual carriages, including the M2 and the M25. As these are the main commuter routes to & from London, you're bound to be caught in traffic and congestion. Using a coach immediately reduces the number of vehicles on the road, thus decreasing this.
In terms of parking in Dartford, not many places take day rates, only up to 4 hours, which will cost you in excess of £5, which if you're looking to spend the day there can amount to much more than that. As well as this, car parks in Dartford tend to be small so sometimes, finding a space can be tricky. When travelling by coach, you'll never need to worry about parking!
Coach hire also means there are no quibbles about who's going to be the designated driver, as no one is driving! Feel free to really enjoy your day out when travelling by coach, knowing that you'll always have a comfortable seat whilst knowing that you're getting home safe.
Why Choose Centaur Coach Hire?
With over 45 years of experience in the industry, we know what it means to go that extra mile for our passengers' by offering recommended stops wherever you may please.
If you're interested in learning more about our Dartford Coach Hire, you can get in touch with us via email or speak to one of our friendly experts.